Say Goodbye to Tangled Hair with the Self Cleaning Hair Brush. Introducing the revolutionary Self Cleaning Hair Brush – the ultimate hair care tool that helps you effortlessly detangle your hair and keep it shiny and healthy. Our hairbrush features unique bristles that are specially designed to prevent tangles and knots, leaving your hair feeling smooth and silky.
Hassle-Free Hair Care with the Self Cleaning Hair Brush
Our Self Cleaning Hair Brush makes hair care a breeze with its innovative design. The brush comes equipped with a self-cleaning feature that removes all the dirt, debris, and hair from the bristles with just a push of a button. This means you'll no longer have to spend countless hours cleaning your hairbrush, saving you time and hassle. Our hairbrush also features an ergonomic handle that provides a comfortable grip, making it easy to use for people of all ages. With the Self Cleaning Hair Brush, you'll enjoy a hassle-free hair care experience.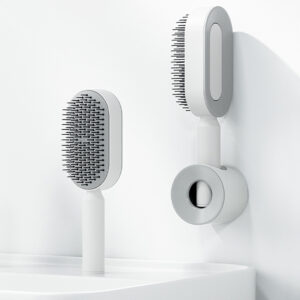 Give the Gift of Beautiful Hair with Our Self Cleaning Brush
Looking for a unique and practical gift for your loved ones? Look no further than the Self Cleaning Hair Brush. Our hairbrush is the perfect gift for any occasion – whether it's a birthday, anniversary, or just because. The Self Cleaning Hair Brush is a thoughtful and practical gift that your loved ones will appreciate and use every day. With its sleek and stylish design, the Self Cleaning Hair Brush will complement any bathroom decor. Give the gift of beautiful hair with the Self Cleaning Hair Brush.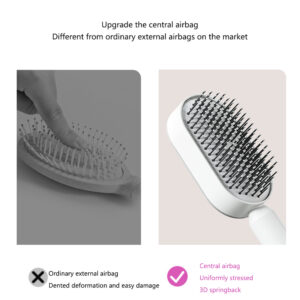 3D Air Cushion Design: This brush has an oval base and a soft cushion base, wide comb teeth, which will not hook or pull when combing or styling wet or dry hair.
Suitable for Massage: Designed brilliantly to minimize pain and to protect hair against split ends and breakage, ergonomic, massage the scalp with each use, promote blood circulation, and keep you in motion.
High Quality: The bristles are long enough to massage the scalp, increasing circulation and helping healthy hair growth. The easy-to-use handle ensures it will never slip out of your hand.
For All Hair Types: Performs perfectly with straight hair, curly hair, thin hair, thick hair, damaged hair, wigs, and even extensions! Brushing is pain-free on both wet or dry hair with less breakage.
Perfect Gift: Perfect gift for birthdays, Valentines' Day, Mothers Day, and anniversaries, for your girlfriend, wife, mother, sister, friend or yourself.